Senior Citizen Coordinator: Pat Yannacci
Email: pyannacci@bloomingdalenj.net
103 Hamburg Turnpike,
Rear Parking Area
Bloomingdale, NJ 07403
Tel 973-838-9259
Click here to read our SENIOR CENTER WELCOME LETTER
Mission Statement:
The Bloomingdale Senior Center offers a wide variety of activities and is open to all residents.
The Bloomingdale Senior Center is also the home of a Passaic County Nutrition Site which operates Monday thru Friday from 9:00 a.m to 1:00 p.m. and serves a hot, nutritious meal for a suggested donation of $1.25. Transportation is provided by Passaic County Para-Transit. For information or reservations, please call Steve at 973-835-4433.



Matters Of Interest:

Newsletter
E-ZPASS SENIOR CITIZEN DISCOUNT PROGRAM
Customers must provide proof of eligible age (65 and over) to enroll in the plan and receive a discount off the full fare off-peak toll on the New Jersey Turnpike and Garden State Parkway. Once your account is open please call 732-750-5300 to request the plan.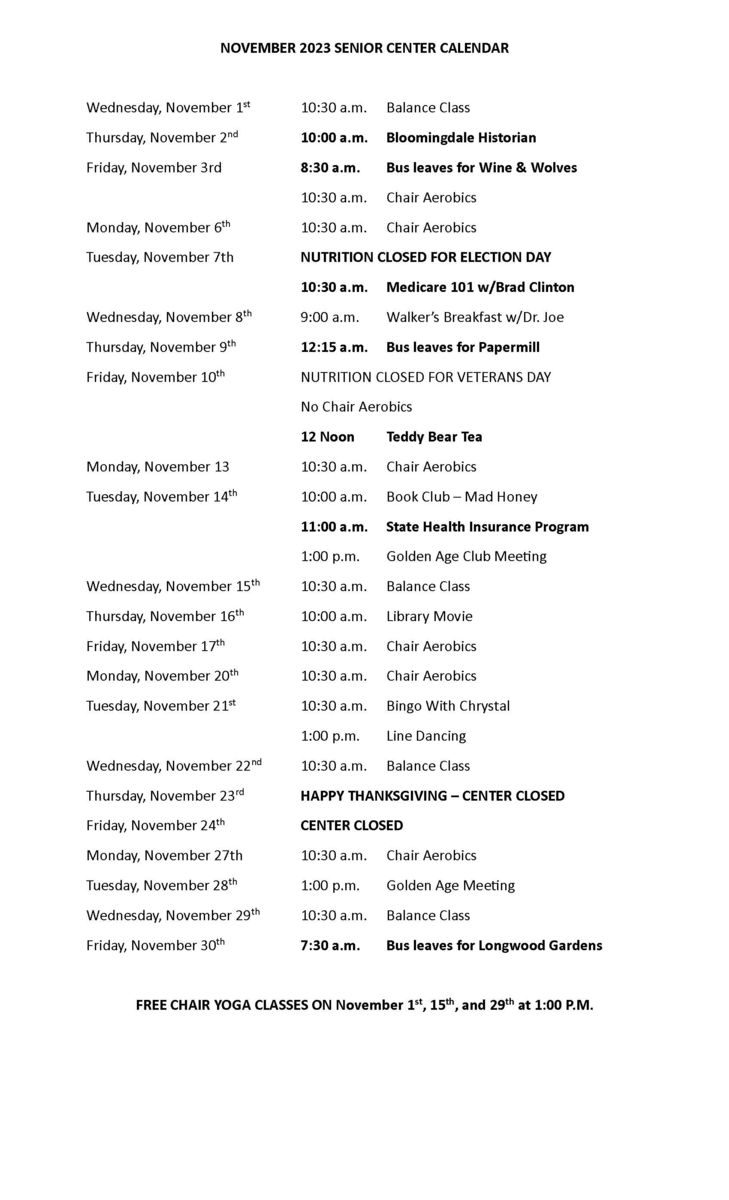 2023 Trips:
October 25 -26th Sleepy Hollow Halloween
November 9 - Papermill Great Gatsby
December 14th Christmas Party @ Senior Center ($25 due by Nov 1)
November 30th – December 1st Longwood Gardens Christmas